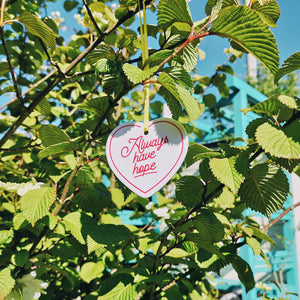 Fighty Pants
'Always Have Hope' ceramic heart decoration
Regular price
$9.00
$0.00
Unit price
per
Always Have Hope

Sometimes it feels like things are just too impossible, or too scary, or too hard. But Hope is always always there - it's one of the most powerful things you can carry with you always.

This beautiful little reminder is perfect to hang in your car, next to your bed, or anywhere your little heart desires. I hang mine in my sanctuary when life gets too much - my garden! 

Dimensions: 7.5cm (W) x 7cm (H).
---